Media Sharing
During a Group or 121 event it is possible to share pictures, documents, video, polls, webcontent and live audio or video with event participants.
Inline and Slideshow Style Sharing
There are two ways media can be shared – 'inline' and 'slideshow style'. Inline media appears inside a chat bubble, inline in the chat, and can be opened full-screen when clicked on by the participant. This method of sharing is great for incedental, additional information. Additionally it can be used for items that you wish to send as part of a whispered response (e.g. "Thanks for your question – here's a copy of our latest disability policy")
'Slideshow-style' displays media in 2/3rds of the participant's window, squashing the chat to one side while showing. This is often used to direct participants' attention to a certain item, whether an image, slide or video. As the moderator you can choose when these items are shown and removed, to help control the topic and direction of discussion.
Group events support both inline and slideshow-style sharing of pictures, documents and video. 121 events support inline sharing of pictures and documents
Sharing Media – Group Event
To share an image, click on the 'share' button on the toolbar, and select 'Picture'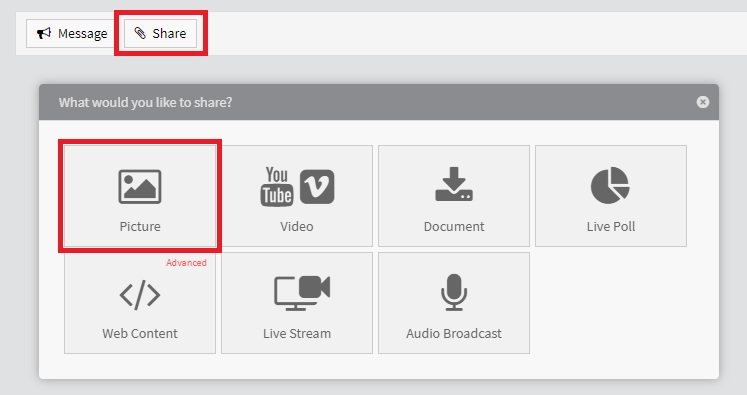 Any pictures you have already uploaded to the M&E platform are shown in the Library section if you wish to select one of those, and you can also choose to upload and select an image from your own computer for sharing.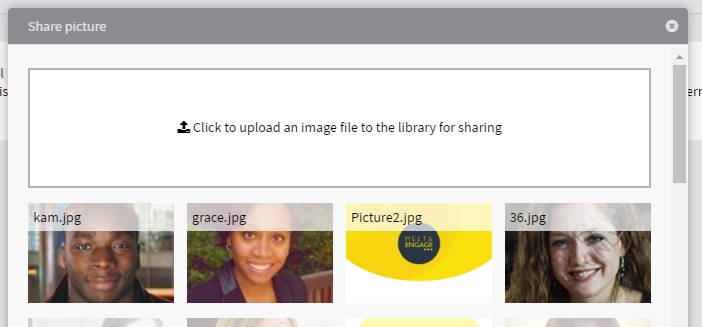 When you have selected an image to share, you are prompted to select between inline and slideshow style. Choosing 'inline' will allow you to immediately publish the image to the event in a chat bubble. Selecting 'slideshow' allows you to add an annotation to the image if desired, and then enqueue the image in the Stimulus Queue.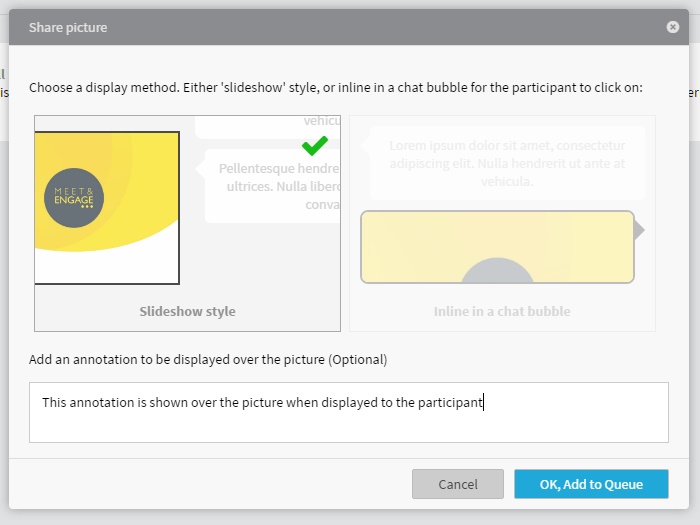 The Stimulus Queue shows any media queued up to be shared with the group, and can contain pictures, video or queued messages (see below). Until you click on an item in the queue, it is not visible to any participant. The queue can be reordered by selecting an item and dragging it elsewhere in the queue.
Several items can be queued up either before an event begins or during an event, and can then be displayed to the participants by clicking once on them. Think of this like switching between pre-prepared slides of a presentation (albeit one that can contain video as well as static pictures.)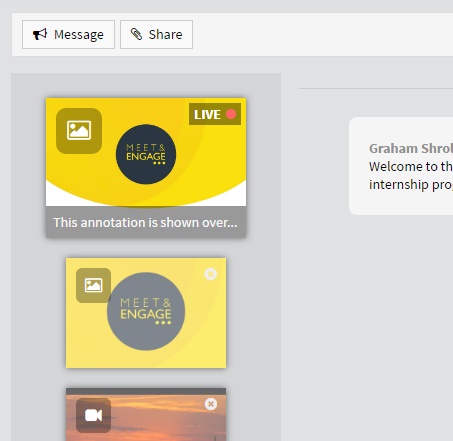 Clicking again, or clicking on a different item will unshare the currently live item.
Video can be enqueued by following the same process: Click on 'Share' on the toolbar, and click on the 'Video' button. Paste the link to a video on YouTube or Vimeo that allows embedding in the box.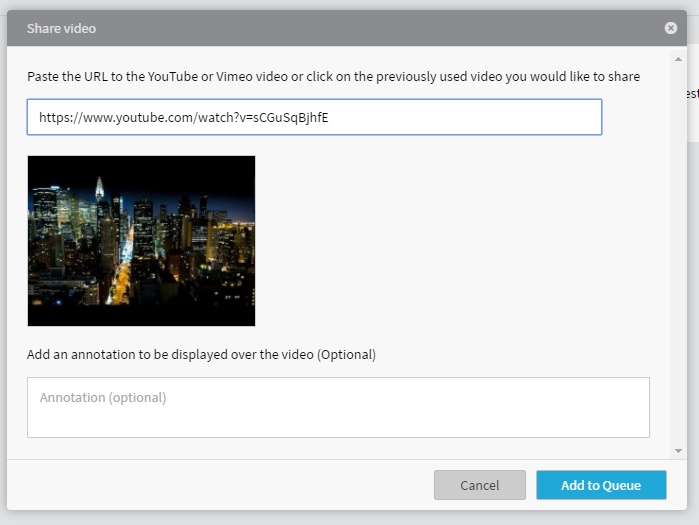 Again, as with pictures, an annotation can be added, and then added to the Stimulus Queue. When video is played, a green coloured bar-graph is overlaid on the video thumbnail in the Stimulus Queue, depicting the progress of all participants through the video. This can be used to get an idea of when to more on to the next item, expect feedback or steer the chat conversation in a different direction.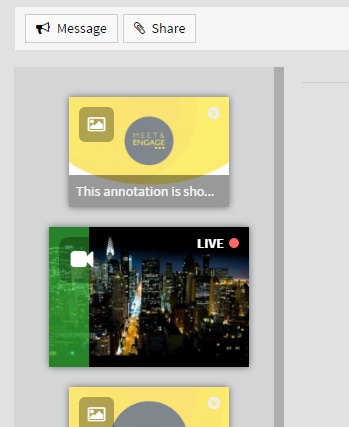 Live polls can be queued for sharing later, at the moment they can be either in a multiple choice format or as free text allowing the participant to enter any answer they want. Also polls are saved to your poll library which means any previously used poll can be quickly re-queued across multiple chats using the 'previously used polls tab' in the live poll menu.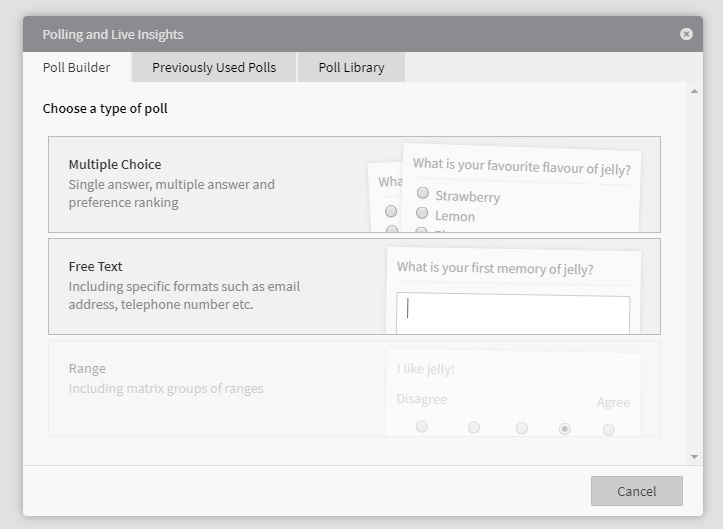 Selecting multiple choice allows you to type the question fitting your poll as well as all the answers to that question.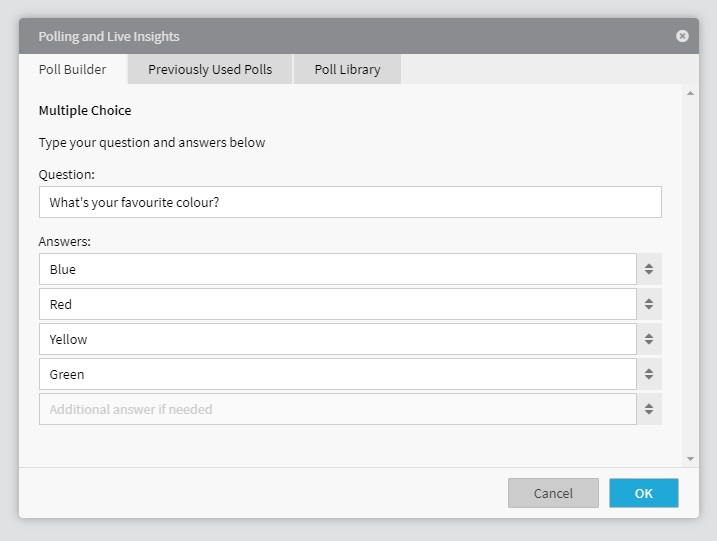 Then you are given the choice of how to answer the poll, either one answer, multiple answers or ranking the answers in order of the participants preference. Once this option is chosen you can choose in what style the answers are given, either as a dropdown list or all answers being shown at once.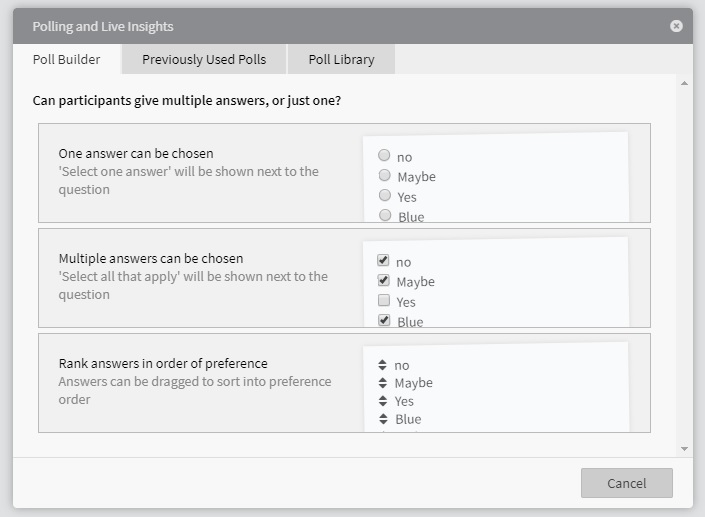 Free text question can be given constraints but are based around 1 question with a text box for the participant to give an answer, the constraints are as follows: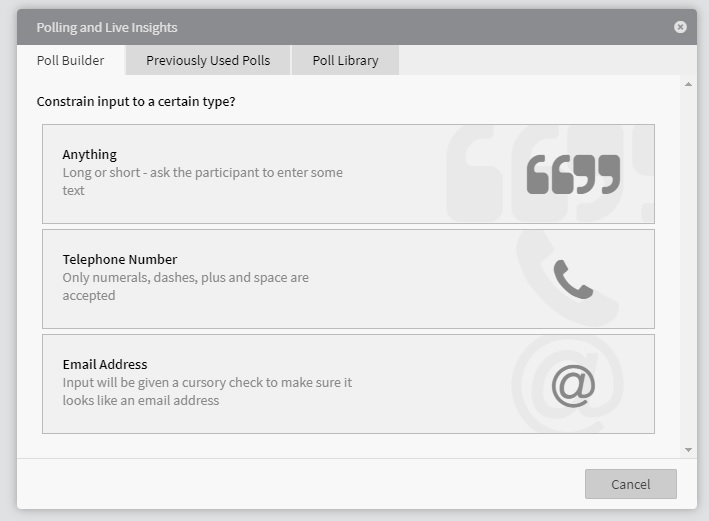 Webcontent sharing allows the moderators to share a dynamic web page similar to that of an image where they can be queued and hidden at the moderators leisure.

Normal chat messages can also be enqueued for later broadcast, and this can be used to pre-prepare some common opening or closing sentiments or to introduce upcoming items in the Stimulus Queue. To enqueue some text, click on 'Message' as normal and draft a message, but instead of clicking 'Send' or pressing Enter, click on the '…' button on the far right and choose 'Queue for later'.

When the text item is clicked on, the system offers the chance to edit the text that has been queued if needed, and then send as if the person had typed it themself. Once it has been 'said', the item is marked with a tick, and cannot be 're-said'. Note that it is possible for one moderator to pre-prepare messages that can then be 'said' by another.
Using an Event as a Template
When you have completed moderation of an event with pictures, Video or Queued Text, the same Stimulus Queue can be used for future events. This can be great for running repeat focus group type events, for example, as the final order of items (including queued messages) is remembered, so it is possible to 'curate' an ideal running order and then use that as a template for all similar sessions.
To use a previous event as a template for a new event, simply select it from the list of previous events in the new event scheduler and all items will be reset and copied to the new event.
Sharing Media – 1-2-1 Event
Media can be shared with 121 event participants by clicking on the 'Share' button or paperclip icon, and can be uploaded or chosen from the existing media library as required.
Additional Sharing Tips
Documents and pictures can be 'attached' to replies and whispers, by clicking on the paperclip icon on either window